Years ago, I posted in a thread on the DEFCON Forums where folk were discussing travel tech.  What bags, what gear, what tools, and what must-have items made life on the road easier and better were all being shared.  In that thread, I posted a rundown of the backpack which I used for carry-on during all my flights.  An array of photos showed the backpack I used and the gear within.
I just re-read the thread and now so much of it is quaint from a time gone by.  A paper book for "take off and landing" times when the Kindle wasn't permitted was in there.  I used to keep my laptop with me in carry-on.  But, most of all, a lot of things look the same.  What has changed the most is my bag.  I've moved to an even slimmer and smaller carry-on, and that's probably the best advice I can give to anyone who is preparing things like this… GO SMALL.  You'll force yourself to fit into a smaller space and you'll carry less gear.
Even now, as I type this post, I am seeing some things that are in my frequent-flyer backpack which are seldom used.  I could prune down even more, I bet.  This post may inspire others to pack smart, but it's likely going to inspire me to pack even lighter than I used to.  😀
So, without further ado, here is what accompanies me on every single one of my 100,000+ flight miles each year…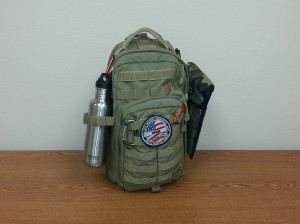 I now use a bag from 5.11 Tactical, their MOAB Rush 10 backpack.  It's a single-strap design that slings over the shoulder and can be adapted for left-side or right-side use.  The single-strap allows the person wearing to spin the bag to their front for quick access to most pockets and it balances the load well, despite only resting on one side of my frame.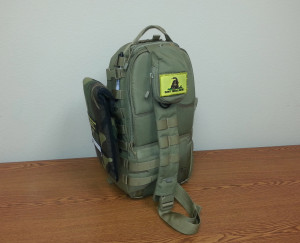 The bag has all the customary veclro areas for adding patches, which I have done.  Also the webbing straps allow for extra hooking of gear and other add-ons.  You don't see it, but I always have a Kleen Kanteen water bottle on the outside, for quick fill-ups once I'm through TSA screening.  Opposite that is an extra pouch that a friend gave me…
This perfectly holds my Kindle.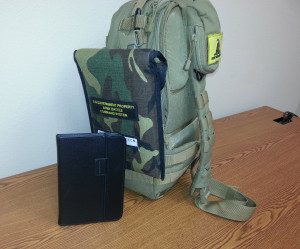 The add-on pouch is super padded and keeps the Kindle (one of my most frequently-grabbed items) in the same spot 100% of the time.  I used to have a Nexus 7 tablet in there and it also worked perfectly for that.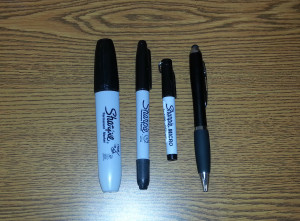 Also through the outside loops of the bag are some markers and pens.  They are always useful and I keep them on the outside for fast access.  If I lose one, meh, they're cheap.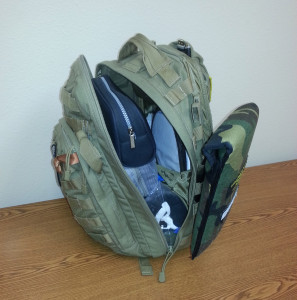 The main pouch of the backpack contains four large things and one small envelope…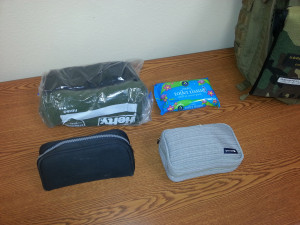 The main pouch contains a ziplock bag of some spare clothes, a travel wipes packet, a black zipper pouch, and a gray 1st class complimentary sundry kit that I've augmented over the years.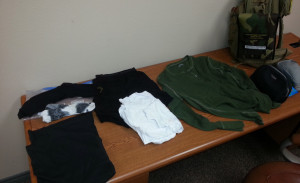 The spare clothes include boxers, a t-shirt, and both white and black socks.  I can get through basically any "day after misrouted luggage" whether it's a meeting, a casual time, etc.  There is also a waffle-knit long-sleeve thermal shirt from Colombia.  I can wear this under (or over) anything I'm wearing on my flights and be comfortable in cold conditions.  Whether a plane is chilly or I'm stranded in Denver for the night, this will get me through the worst of it even without a coat.
The extra garments squish down into that ziplock bag and don't take much room. They live at the very bottom of my carry-on.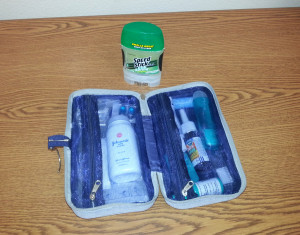 The sundry bag has pretty much what you'd expect…
In addition to the typical things, i also have a spare toothbrush if I'm with a companion, plus eye drops (artificial tears only, NEVER Visene because it's awful) and nasal spray.  A tiny tin of moisturizer and powder are also helpful in rough flight conditions.
The black zipper pouch is entertainment/relaxing/etc gear.  Lockpicks and a few practice locks are in there.  A BlueTooth game pad controller for emulated old NES and SNES games on my phone is fun sometimes.  Keeping spare spoons, knives, and chopsticks is very helpful for in-flight dining or "stranded in a hotel room and eating stuff from the gift shop" dining.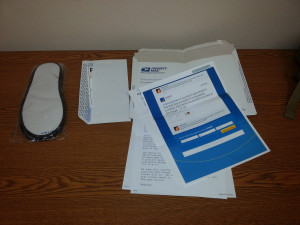 The envelope in the large pouch is a self-addressed flat rate envelope and some smaller envelopes with forever stamps, in case I ever have to mail something home.  I also have a free pair of slippers from a previous flight (they fold super flat) and some printed-out policies and correspondence from TSA and airlines clarifying policies.
The main pouch has two small additional pouches.
A deck of cards (which I almost never use but can't seem to stop keeping on me) is in one such small pouch.  The other contains a little case of which I spoke in my earlier post years ago on the DEFCON Forums…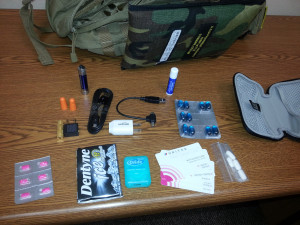 This used to be my "keep in the seatback pocket" case… it had basically anything I'd need while in-flight.  I rarely reach for it nowadays, however, and really just keep it in case someone else in my travel party needs something.  From meds to make you sleepy or settle a stomach or ease pain to gum for ear-popping to power/audio adapters, these are things that are good in a pinch but which I need less and less.  Nowadays, I just listen to my phone via earbuds or I read the Kindle or I sleep.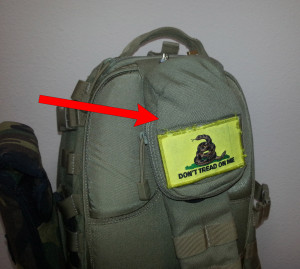 The tiny pouch built into the shoulder strap has a few things I like to access quickly.
USB charging cables (one 10′ one and one 1′ one) are in there along with my earbuds and a wet wipe.  The LEGO flat bricks are part of an old joke.  If you saw a talk of mine from CarolinaCon you'd understand.  😉
This small top pocket is designed for glasses.  I use it for that and a couple other odds and ends.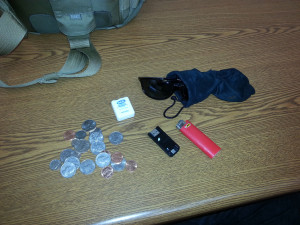 Sunglasses are up there, yes, and also some spare floss and a lighter and a USB drive.  It's also the dumping-ground pocket for loose change, which I empty out after each trip.
This bag has a TERRIFIC additional pocket in the rear.  I use it as a food stash.
In addition to Cliff bars and similar things, I keep a small supply of heavy-duty ziplock bags in there.  I raid lounges for free things if I know I'm headed somewhere that might not have proper food options.  Yes, these little goldfish crackers or the carrot sticks are kind of crappy… but it beats being hungry when you are wheels-down in Moscow and checking in to a hotel at 2AM hours after everything is closed.
The very front pocket is where all of my essential tech resides…
In here we have:
A backup power supply for charging phone/etc
A universal power adapter for foreign plugs
A cigarette lighter adapter for charging in rental cars
An orange power splitter which makes me VERY popular in airports sometimes
Spare reading glasses (my main ones travel in checked baggage in my laptop bag)
Small bag of chargers and adapters (fitbit charger, etc)
Pens, screwdriver, little tools
Cash Can (google it, it's great to have a spare $100 bill tucked away somewhere)
Notebook (which also holds all receipts and scraps of paper as needed)
a backup phone…
EDIT: I'm making a new addition to this post in order to mention the newest addition to my travel bag.  This backup phone is 110% what I've been seeking for a while.  Made by BLU, it's built in the rugged "candybar" style of the classic Nokia brick phones.  It's a quad-band device, good for coverage in basically ANY place on earth that has GSM networks.  It comes factory-unlocked, so any SIM card should work.  (the model I purchased is actually DUAL SIM, just for the hell of it) the SIM slots are full-size, so including an adapter set is a smart move.  Just leave the adapters sitting in the SIM slots.  The phone supports a microSD card and can do a few extra little things like play MP3s or even tune in FM radio.  In short: if I ever for any reason break or lose my smartphone while traveling, I can have at least basic comms back up quickly, no matter where I am in the world.
This phone costs $23 on Amazon.  For heaven's sake, order one.  🙂
 .
.
All of that packs into a bag which is small enough to fit under any airline seat (although I prefer using overhead space, of course) and which is "squishy" and capable of being wedged into overhead bins on both large and small airframe craft.  I can sling it and carry it a variety of ways (even wearing it comfortably on my chest if I have a larger bag behind me somehow) and it sees me through just about anything.
The bag currently weighs 15 lbs.  I'm pretty happy with this setup, and will continue to strive toward reducing its weight and size more and more over time.
Travel well, people.  I'll see you when I see you.
.
.
.