I am always gifted clothes at Christmas Time.  That's not the only thing I receive, but it's a pretty decent constant.  More common than, say, ammo — which is something that is consistently on my wish list but rarely in my stocking. Some of the garments that I have received over the years weren't my cup of tea, but overall they have been good gifts that I've worn with fondness.
This year, one gift I opened on Christmas Eve was an assortment of socks.  Now, socks may be the quintessential holiday punchline, but I loved this gift.  They were smartwool, in dark shades, and exactly what would suit me.  As I took them upstairs and put them away, I noticed something.  My sock drawer was getting incredibly full.
I am normally a slash-and-burn type of person when it comes to possessions.  If I don't use it or if I have enough of it or if I even barely think that a part of my life is getting even in the vicinity of "cluttered" I tend to go on a tear… selling, donating, or pitching out anything that is taking up space in my life.  Somehow this is not the case with my socks, however.  Over the years, despite consistently acquiring new ones, my old socks rarely ever move on to other opportunities.  They still have plenty of life left, but in the back of the drawer they remain, untouched.
Tonight I had reached my limit.  Putting away socks and a terrific sweater, I pulled out a wide range of old clothes with an eye for donating them in the coming new year.
Why was I going on a closet arranging escapade on a night like Christmas Eve?  Perhaps I was trying to occupy my mind.  In years past, the woman in my life would bake loads of extra cookies and we would take them to hospitals late on the 24th, when the streets were all quiet and asleep.  In these recent years without her, the late hours of Christmas Eve have simply felt a little lacking for me.
So tonight, with my current girlfriend out-of-town and visiting her family this year, I was particularly adrift.  Then I hit upon the following idea, which I am sharing here in case anyone else would like to do the same.
I decided to wrap these garments into presents…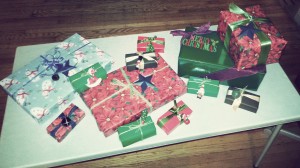 … and in lieu of just putting all of these extra clothes into a local donation bin, I decided to play Santa for the evening.  I know some of the local homeless population, street kids, and crusts/hobos from simply walking around and talking to them in West Philly.  Tonight, I set out to find any of them who were braving the cold.  A Santa hat and sacks of gifts had me feeling a bit warmer inside as I walked the Philadelphia streets.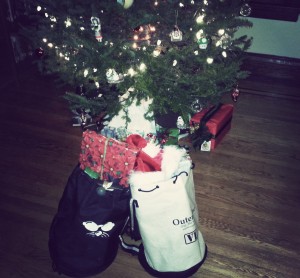 As it was late, many of the people who were sleeping rough had already huddled down for the night, so I simply tucked something beside them…
…ultimately, I was also glad to find some people still out and about.  A handful were working intersections, others were taking smoke breaks outside of the shelters…
…but all of them were pleasantly surprised and happy to get a little bit of unexpected holiday cheer.  And I felt a little better, too.  I know that I'll be happy when tomorrow gets into full swing and my whole family is together.  Once Lady Merlin is back in town that will be even better. 🙂
Still, I am starting to think that spending time with those who are Not Home For the Holidays might become something of a new way that I experience the season on the night of the 24th.  I'll still miss watching White Christmas and delivering cookies to ERs… but as Travis Goodspeed is fond of declaring, things are always changing… nothing is like it once was. 😉