Ugh.  I am generally a very open-minded person, but some things just make me cringe a little bit inside.  Lately, something that I've been noticing a lot more of has been the increasing creep of "tacticool" aesthetic into mainstream gun ownership.  There was a time when devotees of this wholly ridiculous sub-culture were such a minority among gun owners that they were openly chided.  Outfitting one's rifle with a 37mm flare launcher styled to look like an M203 system or wearing a field-grade gear vest at the gun range used to elicit jokes about Mall Ninjas and the Delta Force catalog.
Something else that used to be consistent was that the world of "tacticool" gear was the exclusive domain of aftermarket parts suppliers. Firearms would come from the factory in a rational stock configuration, and then some particularly dedicated (and I would often say particularly silly) individuals would spend money on accessories and modifications that they felt looked badass when in fact they just appeared silly.

Your typical "tacticool" guy… he has likely spent more on accessories than his original rifle cost, and yet virtually none of this would be considered "field ready" and capable of rough handling if said rifle were issued to someone in the armed forces.  The actual effectiveness of this weapons system is immaterial to a tacticool user, however.  It just has to "look badass"

Often not content with merely making their personal firearms laden with accessories and backup gear, a true tacticool individual will ensure that their automobile, bike, or even work desk are outfitted with the most aggressive-looking gear items, in the event that "the shit hits the fan" one day.
Until recently, if someone wanted to add any of these rather unnecessary accessories to their guns, they would either perform the modifications themselves (thanks to the ever-growing number of aftermarket parts manufacturers who have adopted the picatinny rail standard) or enlist the help of a willing gunsmith.  This niece market has allowed for some gun shops to make a tidy sum by catering to the desires of some citizens who wish to own guns that look like something out of a Hollywood movie but who do not actually want to spend a lot of money or go through Title-II paperwork.

The Red Jacket Firearms company, featured on the Discovery Channel show Sons of Guns, was a standout in the "tacticool" realm.  Here we see then-owner, Will Hayden, holding a gun that appears to only fire 9mm pistol ammo, in spite of the fact that it is based around a rifle receiver, features a high-magnification optic, and sports a suppressor (which may just be decorative).  Chances are high that this handgun/carbine hybrid is not capable of select-fire and is most likely not a Title-II NFA firearm.
This was the standard for a long time.  If you wanted a tacticool gun, you were creating it (or modifying it) yourself.  Mainstream firearm manufacturers (whose chief clientele are usually the police and the military) would never risk their reputation by creating hardware like this at the factory and putting their trade mark upon it.  Sadly, that trend may be changing.
Consider Mossberg & Sons.  This Swedish company has been making what are arguably the world's finest shotguns for nearly a century.  They also produce rifles, however this is a small piece of their overall business when compared with their shotgun division.  Police officers and the US military have been relying on their products for ages now.

A SWAT police officer with a Mossberg 590  series shotgun

US Marines training with Mossberg 590A1 shotguns
Mossberg shotguns come in a variety of models.  They can be categorized into roughly three groups:
the 500-series are geared towards casual sports shooters and are often seen with cushioned stocks for comfort
the 590-series are geared towards police and usually have the ability to hold more shotshells
the 590A1 shotgun is designed for the military and features all-metal construction.  it is essentially a model 590 without any plastic parts
A "tacticool" person would historically choose to purchase model 590 shotguns by Mossberg.  Since there is no cosmetic difference between a 590 and a 590A1, and since the latter is more expensive and weighs considerably more, there is little "cool" factor to be gained for such an additional cost.  My first shotgun was a Mossberg 500.  When purchasing a second one for home defense, I happened across an auction for a model 590A1 with a very low starting price.  Back then, this military type shotgun didn't command much attention and therefore the auction seller was seeing few bids.  I didn't even know what the 590A1 was at the time, but after researching it I liked the idea of something with more rugged construction and chose to make an offer.  I won the auction without really trying and have been happy with the shotgun ever since.
I particularly like it when I introduce new shooters to 12 gauge pump guns.  Due to its heftier mass, the 590A1 soaks up a lot more of the recoil for each shot, making novices much more comfortable while firing it.
Unless one knows what details to look for (the heavier barrel appears slightly thicker than normal, for example) most people don't notice anything distinct or different about my shotgun.  The original 590A1 guns from Mossberg have their model number on the left side of the receiver like all similar products, stamped in non-distinct and subdued letters.

Unless you're looking right at it, most people don't even notice the small "A1" at the end of the model 590 designation, and would assume I have a standard law enforcement model shotgun.
Lately, however, it appears that Mossberg & Sons may be starting to seize upon the "tacticool" trend that ripples through some parts of American gun culture.  While browsing auction sites for another shotgun recently, I noticed something rather odd in specific photos that some sellers had uploaded…

This appears to be the new way of marking the 590A1 shotgun
No longer content with using the nondescript, straight-line font with which they make a subdued imprint on their other shotgun receivers, Mossberg now appears to have adopted this bold "Stencil" style lettering (so popular when making artistic references to the military) and the "M590A1" lettering has increased noticeably in size.  If that weren't enough, the model number has been augmented with a subtitle, boldly revealing this to be the "U.S. SERVICE MODEL" should anyone cast a glance at the weapon.
Sigh.
Who exactly thinks this makes a firearm more desirable?  I don't know, but chances are I wouldn't want to hang out with them.  You don't tend to see this in other cultures.  Consider motoring.  Most auto enthusiasts agree that the Ferarri logo is a thing of beauty.  Quiet, yet powerful… that company's logo commands respect and portrays elegance much in the same way that their vehicles do…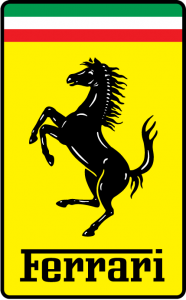 … now what, I ask you, do you think the reaction of most people would be if Ferrari S.p.A. suddenly chose to start putting this logo on their automobiles instead…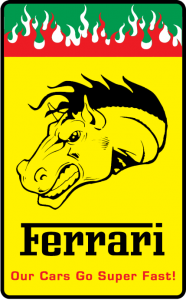 Would that make you have more respect for these machines?  Would it make you more likely to buy one?
I don't know your reaction, but I can state quite plainly that if I or anyone whom I know buys another Mossberg 590A1, it will be an older, used model without these new fancy-pants "tacticool" markings.
Heaven help us if these companies start equipping their firearms with unnecessary and flashy do-nothing accessories.  Then the Mall Ninjas will have really taken over.