Well, that's another year in the books.  I thank absolutely everyone for a terrific and successful DEFCON Shoot!  The staff and RSO volunteers were indispensable and all credit goes to them as well as everybody who so marvelously brought amazing firearms and content to the range for everyone to share.  The cannon made a triumphant return, Joe's full-auto collection had numerous specimens on site, and plenty of folk got to try a multi-shot rotary drum 40mm grenade launcher!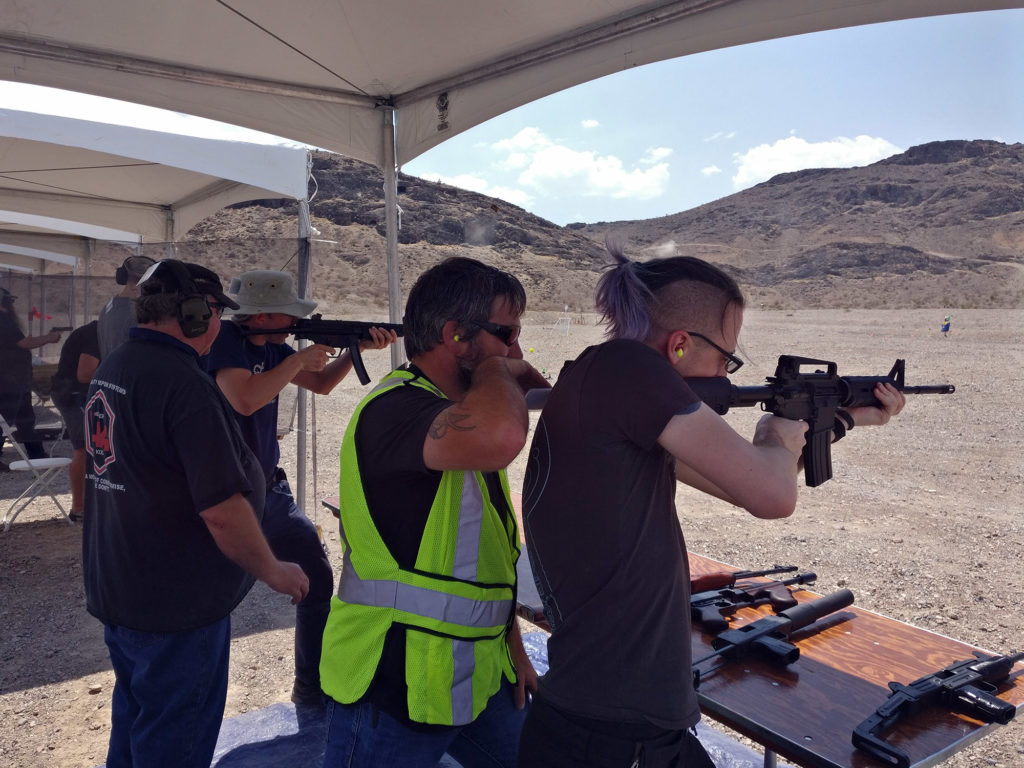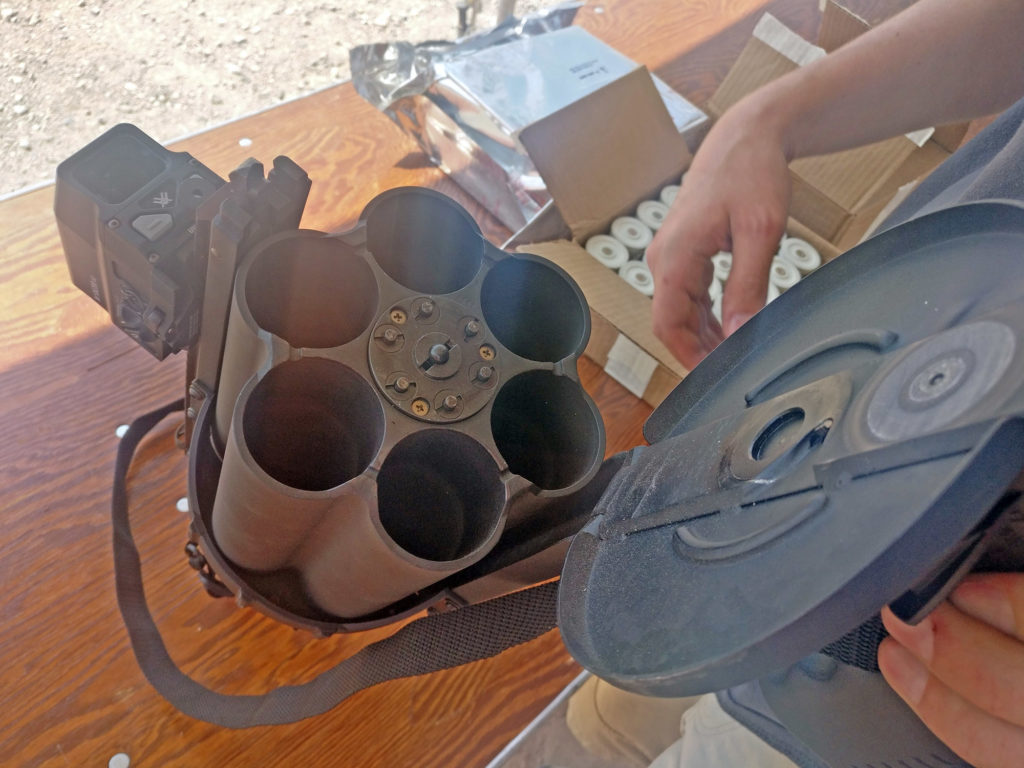 The theme this year (on badges, decoration elements, etc) was "resistance fighters who fought fascists" and we thought that was quite timely.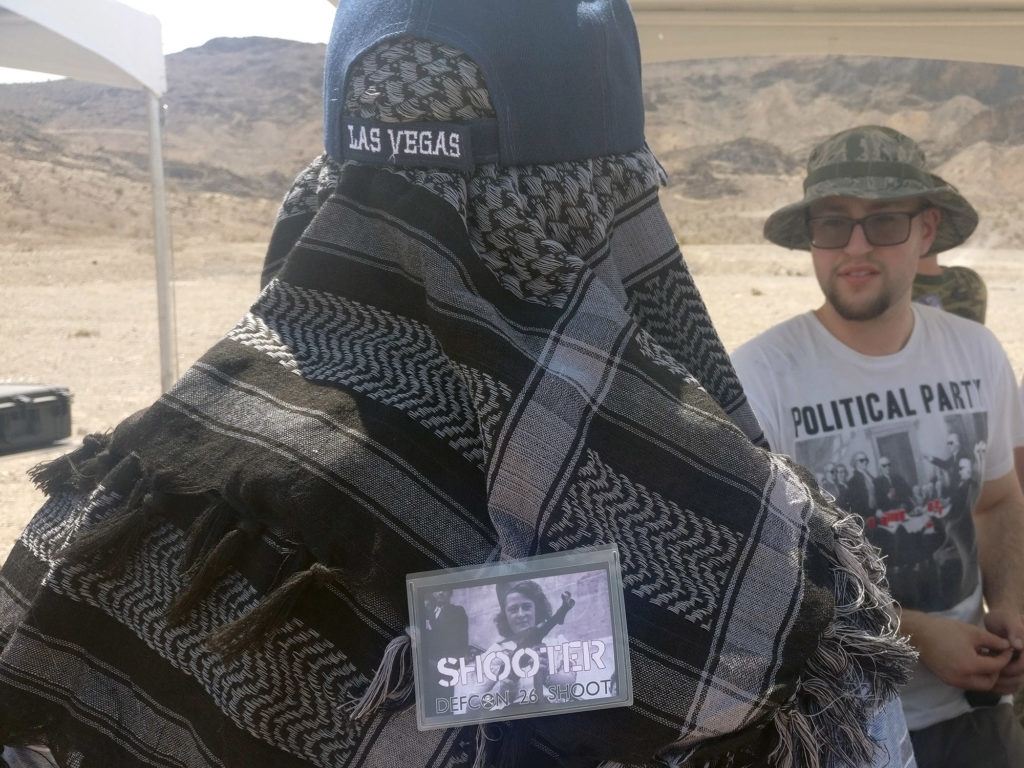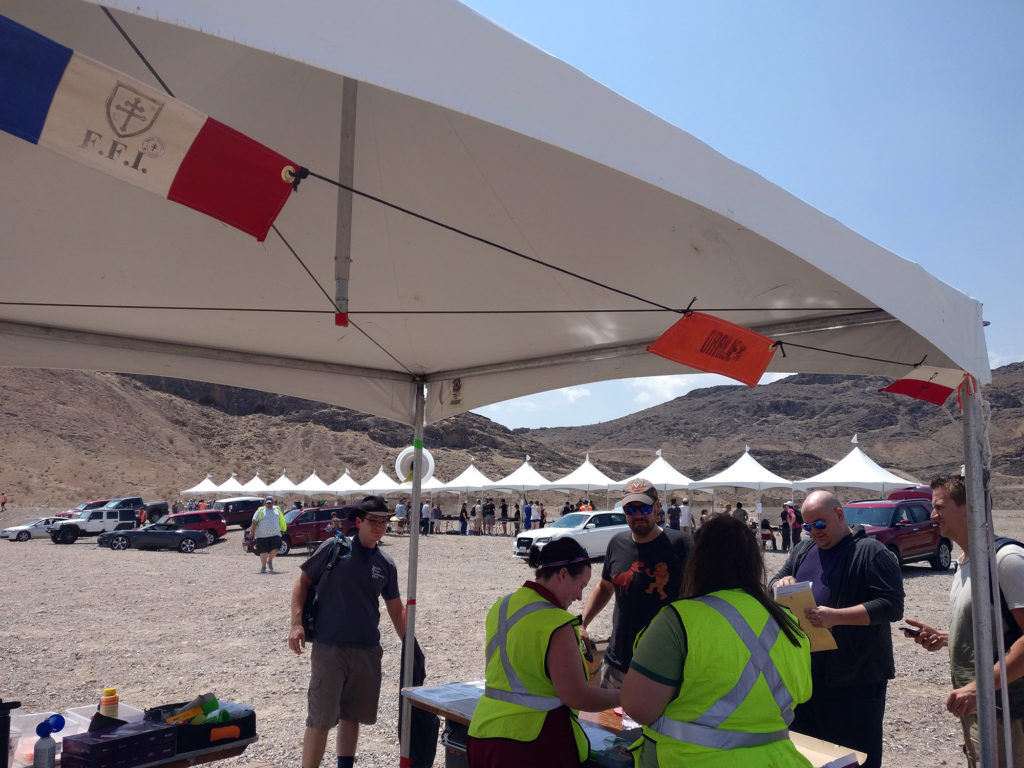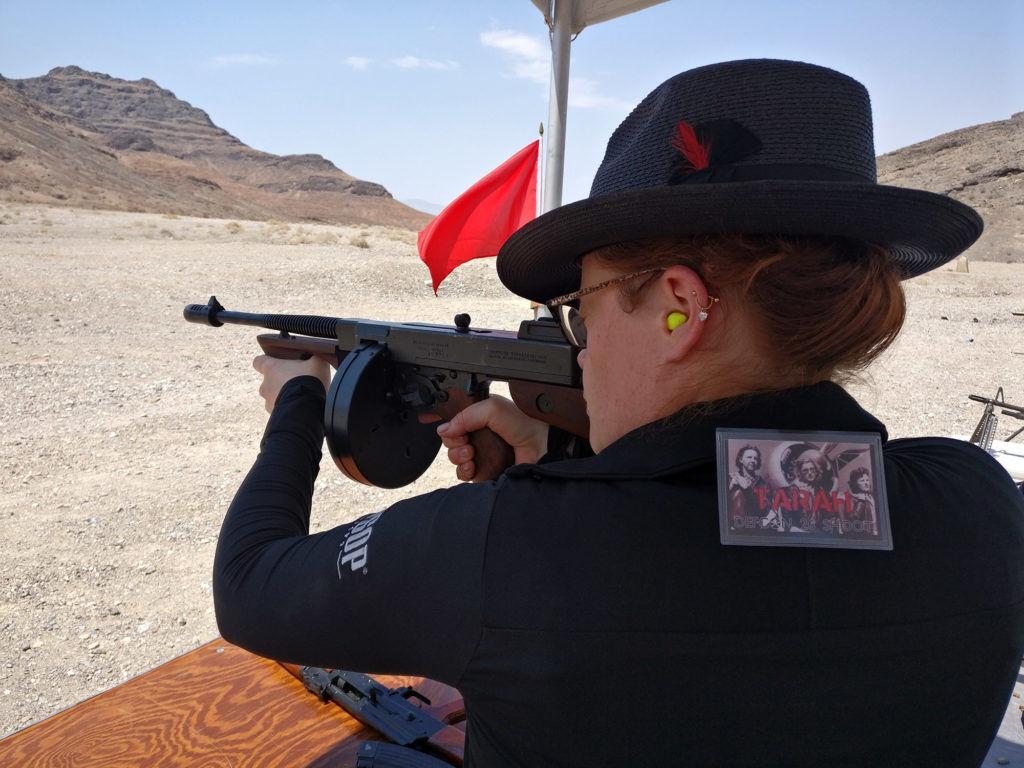 So, as always, everybody seemed to have a very good time and it was marvelous to see friends, listen to talks, and watch people compete in challenges like the dueling tree and crypto puzzle (folk are still working on that to see who can win this amazing 80% lower!)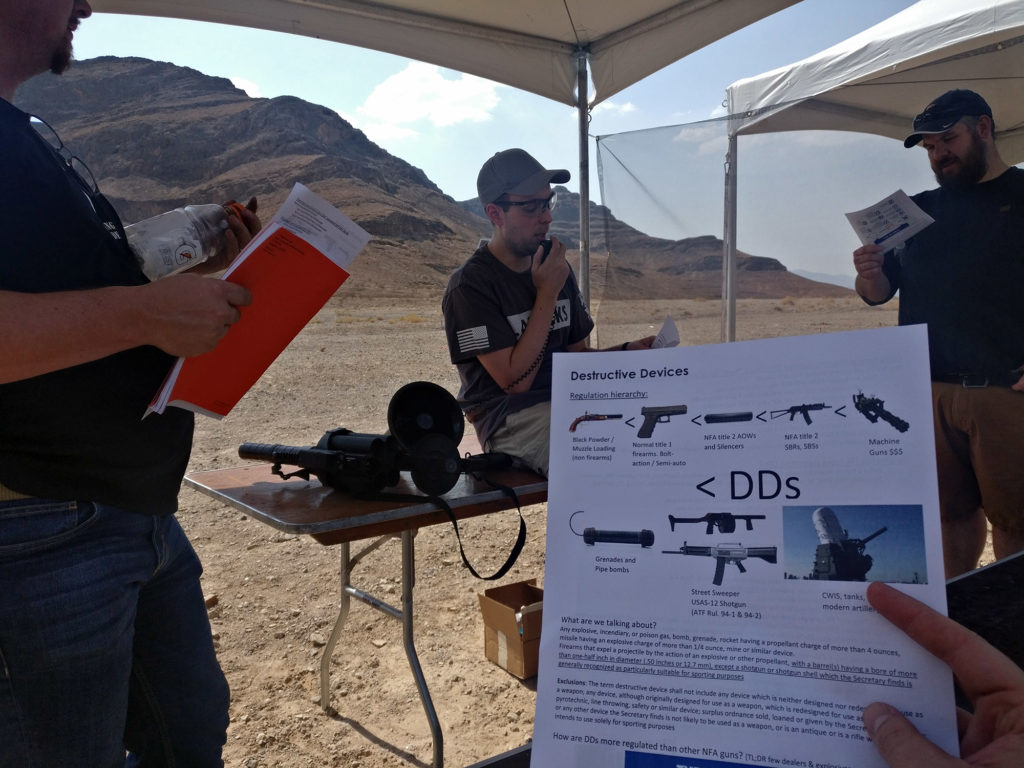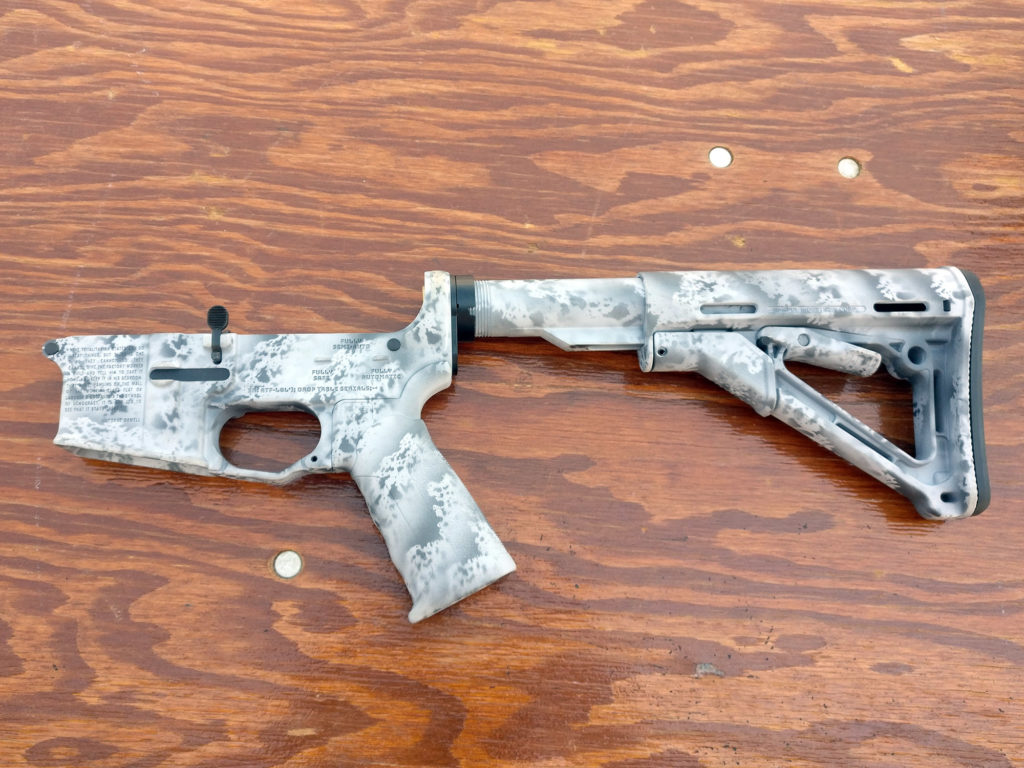 One of the most hilarious moments of the Shoot was when Puking Monkey pulled a "Yo, dawg, I heard you liked cannons… so I shot a cannon out of my cannon!" for everybody.  😀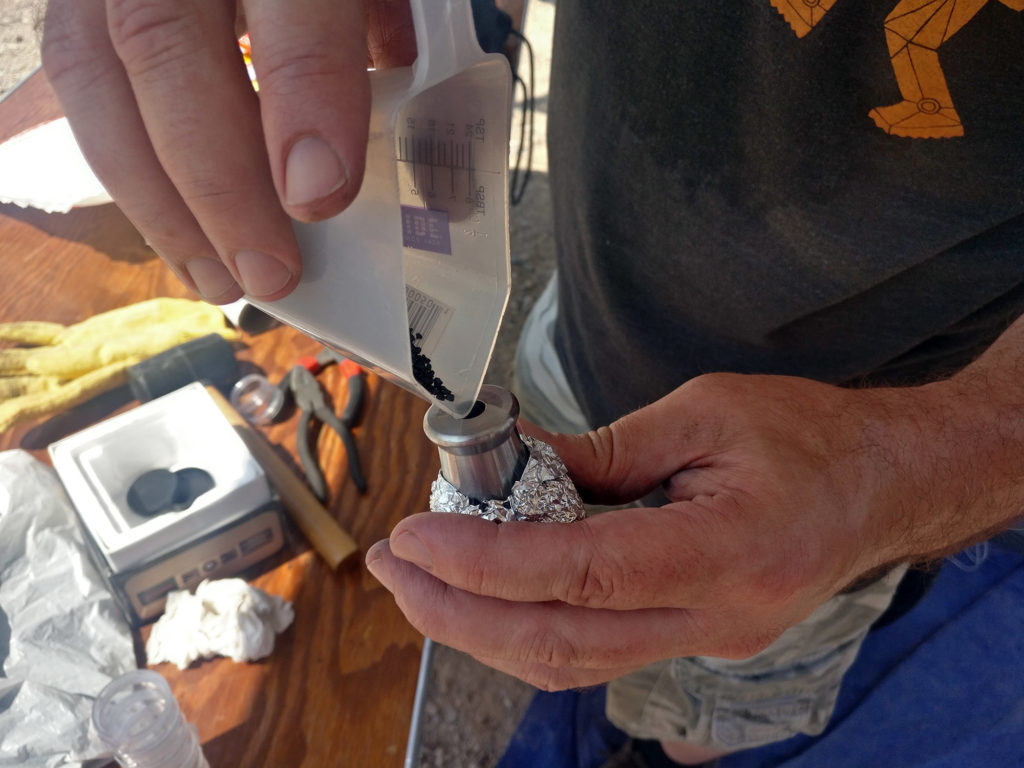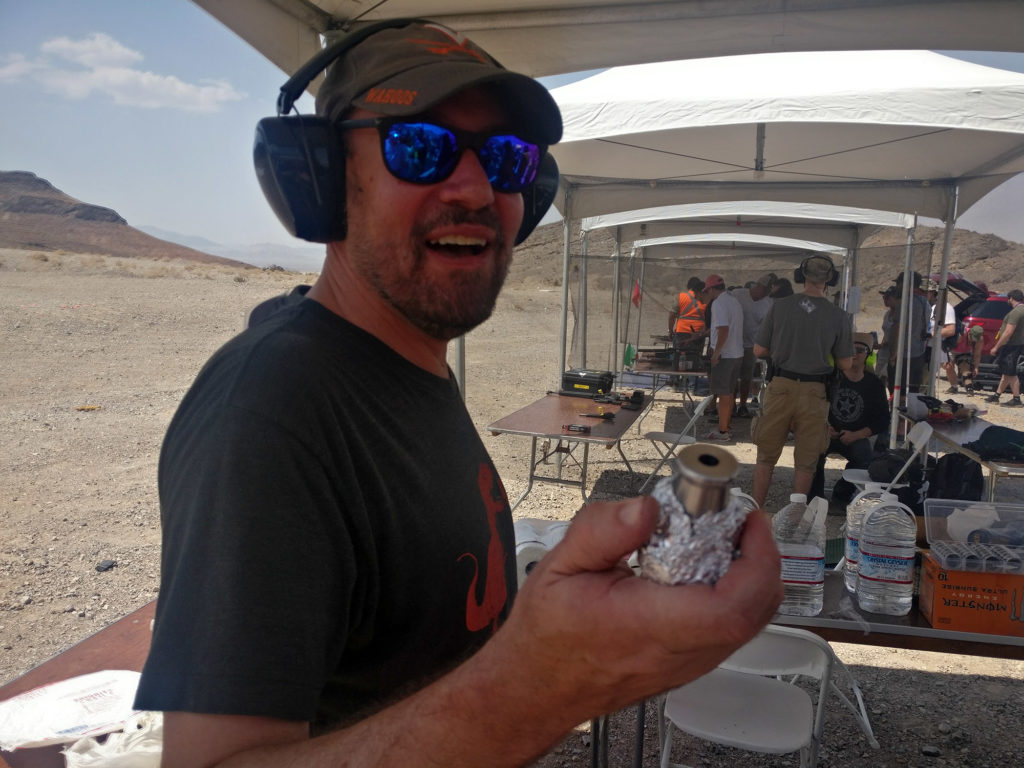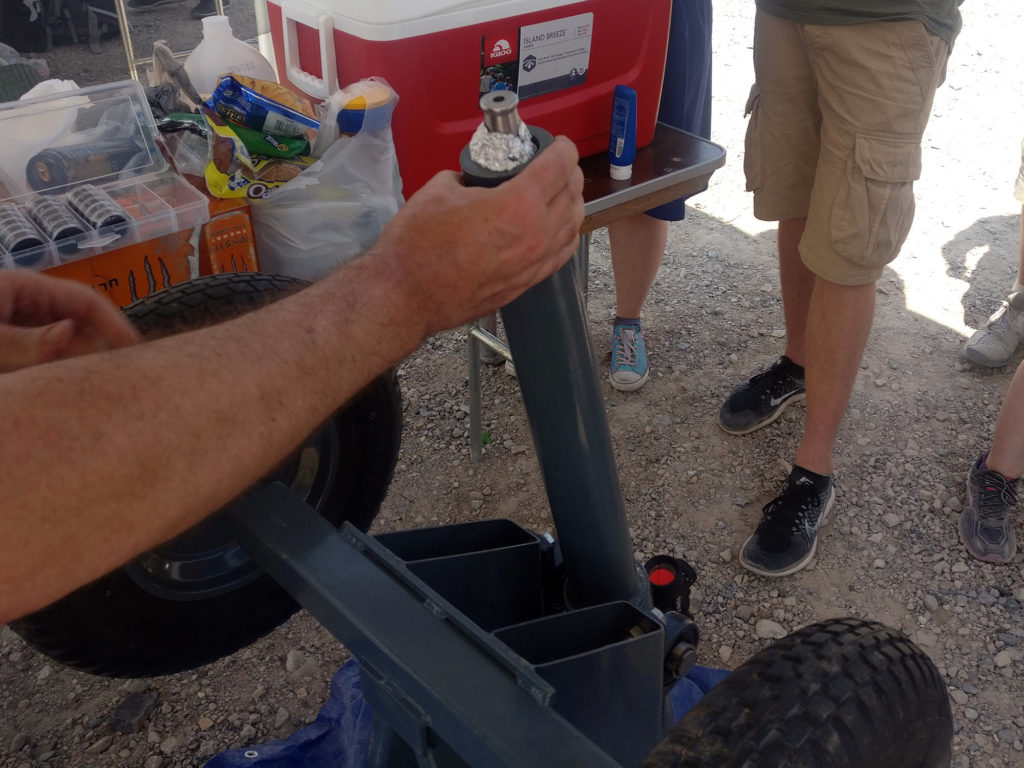 But one of my favorite parts of this year's DEFCON Shoot came toward the end of the day.  To tell the story properly, however, we'll have to reflect upon the conditions at the shoot site when we first arrived.  Many areas of public land which are used for recreational shooting are, as a lot of gun folk will know, subject to awful and unnecessary abuse.  My friend Karl documented as much on InRange TV and plenty of other news reports and anecdotal evidence shows just how thoughtless some firearms folk can be when no one's looking.
The Indian Springs location (where we shot last year as well as this year) is sadly no exception.  Some bad apples have a long history of going out there and shooting at ridiculously inappropriate targets that make a mess and leave debris everywhere.  This was immediately visible as we arrived and were setting up…
We noticed assorted debris like target backer boards and old metal school lockers.  At least those are either bio-degradable or relatively self-contained and box-shaped items.  Plenty of things were not suited to being targets at all, however.  Mattresses and more, for example…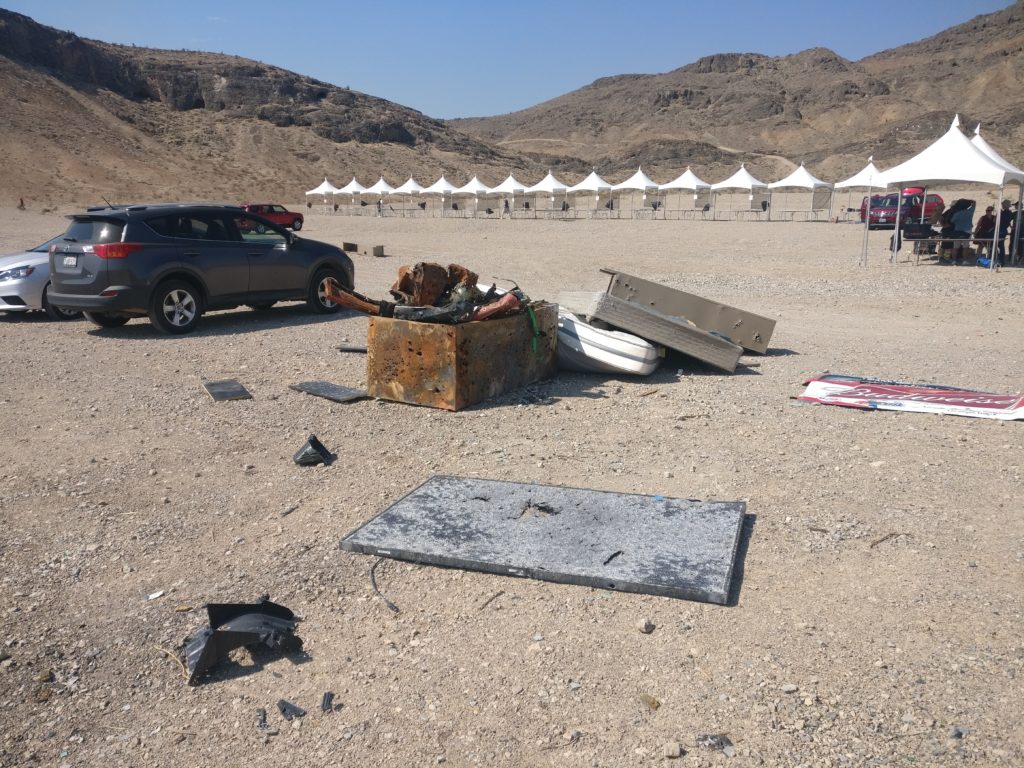 It's a shame when folk take old appliances out to the desert because they shatter in so many ways when shot or blown up…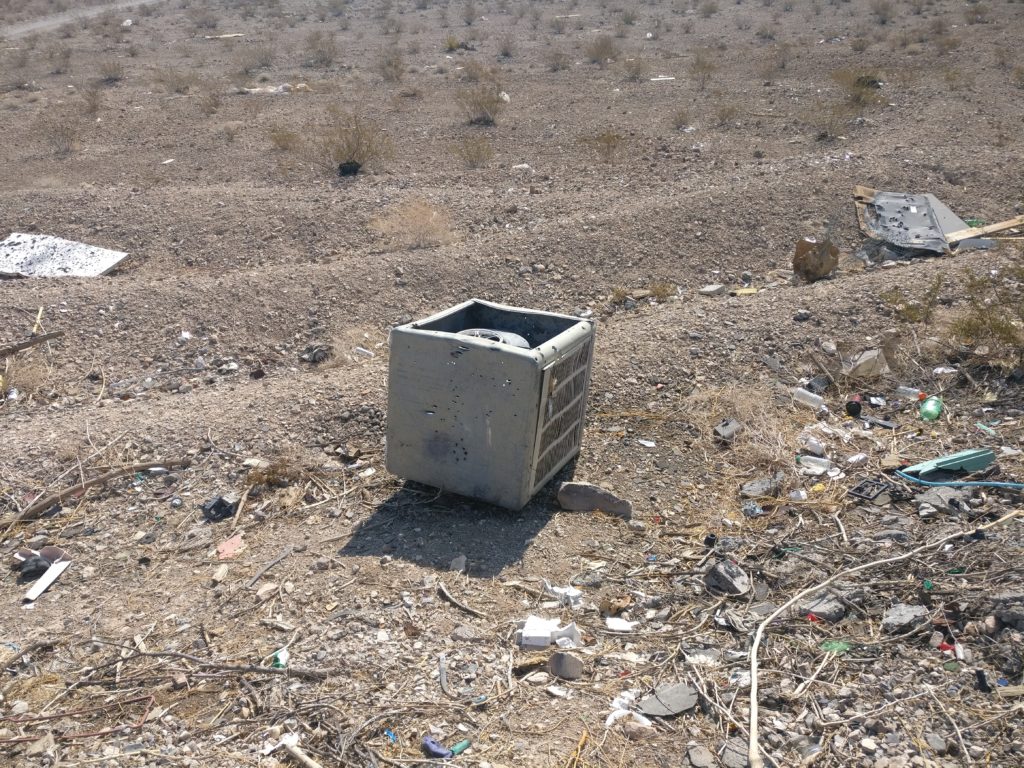 But perhaps the most horrendous offenders are consumer electronics, like TVs.  These not only shatter into loads of bits that will never biodegrade, but they also contain plenty of other materials that are harmful to the environment and require special hazardous disposal protocols for e-Waste when being thrown away properly.
I was very inspired by my attendees and volunteers at the DEFCON Shoot.  Almost right from the start, it was possible to see everyone there taking the time to at the very least police up much of the waste into more organized piles.  (This was as much to aid in the parking of cars as it was simply good practice… and no one had to be asked to do this.  The group of hackers just took it upon themselves without direction.)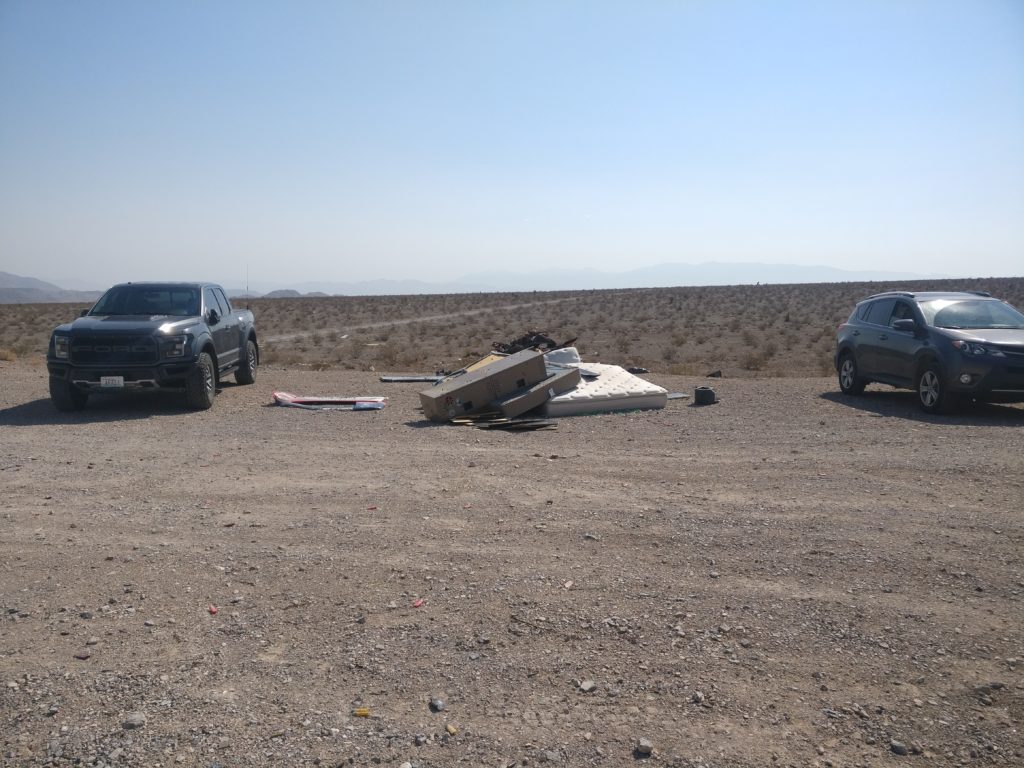 In the middle of the day, I looked at the large group of folk (many of whom came from less free states or totally un-free countries) enjoying this public land and getting to shoot guns that they would never otherwise be able to handle… then I looked at the fold of bills in my pocket from individuals who arrived without pre-registering and instead opted to pay cash on-site.
Then I started googling.
There are a number of waste haulage firms in the Las Vegas metropolitan area.  But none of them said they would service a job so far outside of the city, up in a nowheresville like Indian Springs.  Eventually, on the verge of giving up, I asked one fellow very directly, "Look, you said that this job's distance wouldn't make it financially feasible… but I fear you may be underestimating this group's willingness to incentivize you.  Exactly what kind of additional compensation would make this job viable to you?  Tell me a number."
My jaw dropped when, after some brief consideration and a pause, the owner said it would cost possibly "as much as an additional $150" to come that distance.  I hired him and his crew immediately.
And, sure enough, after the conclusion of the DEFCON Shoot, Dennis and his team lead James and a crew of workers arrived on site and began to police up as much debris and junk as their vehicle could hold.  I told them that I was prepared to pay extra disposal fees for any TVs they could gather and that we'd cover the costs of a full 15 cubic yard truckload.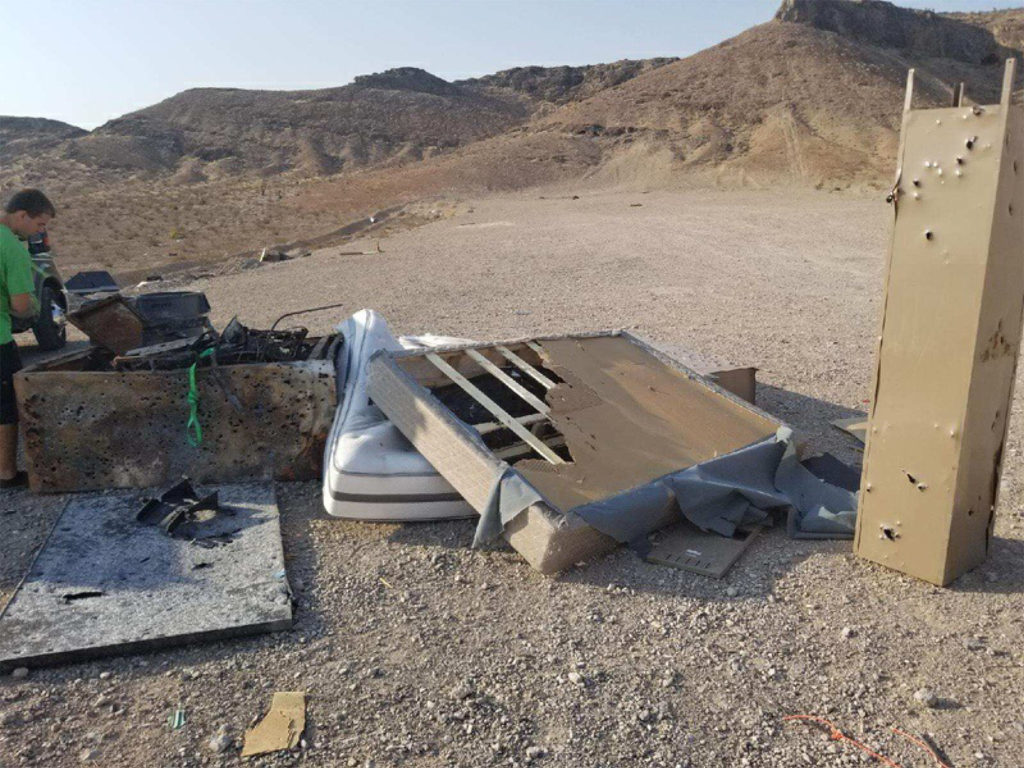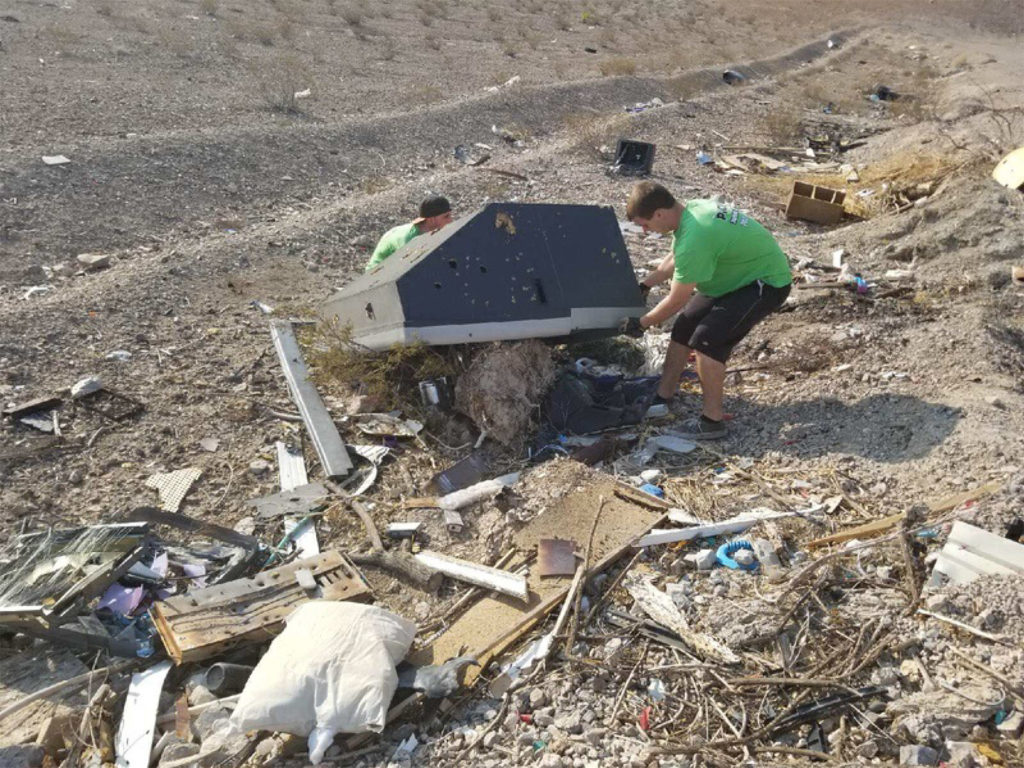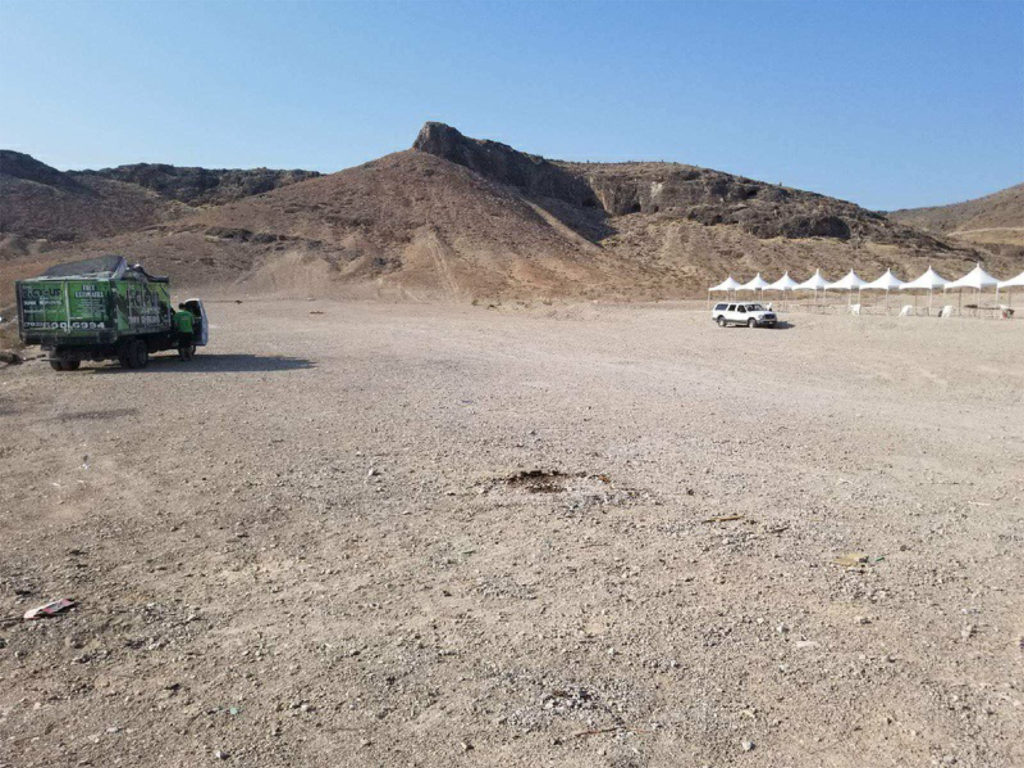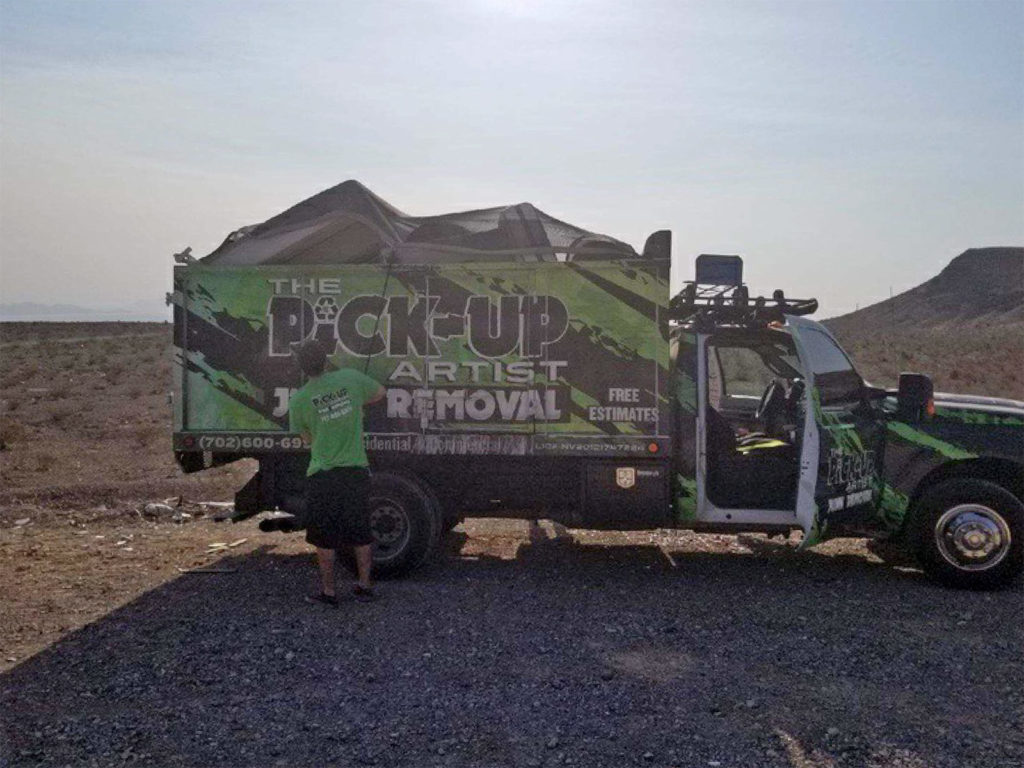 As the clean up haulers were working, a car from the town arrived and wanted to see what was going on.  (Both years that we've come around, locals have showed up during the Shoot itself to say hello and see what we're about and they seem to generally like us and come to regard the "hacker bunch" as "those people who treat the place well and don't make a mess" so that makes me very happy.)
But this was a cut above… I hope everyone can be very happy to learn that the locals who arrived offered thanks over and over again for the work being done in the area.  They commented on how much better it looks… and they remarked that they'd never seen anyone go to the effort of cleaning it up before.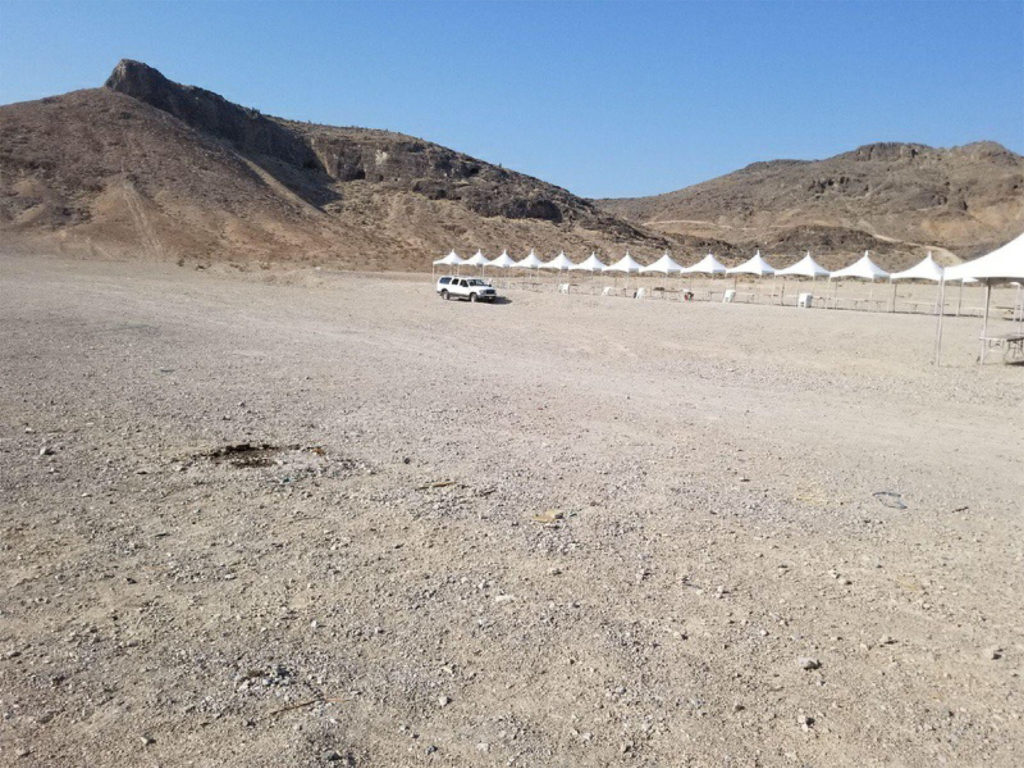 Thank you all who came, who shared, who taught, who learned, and who made all this possible.  I'll see you next summer.  For now, enjoy the rest of DEF CON!